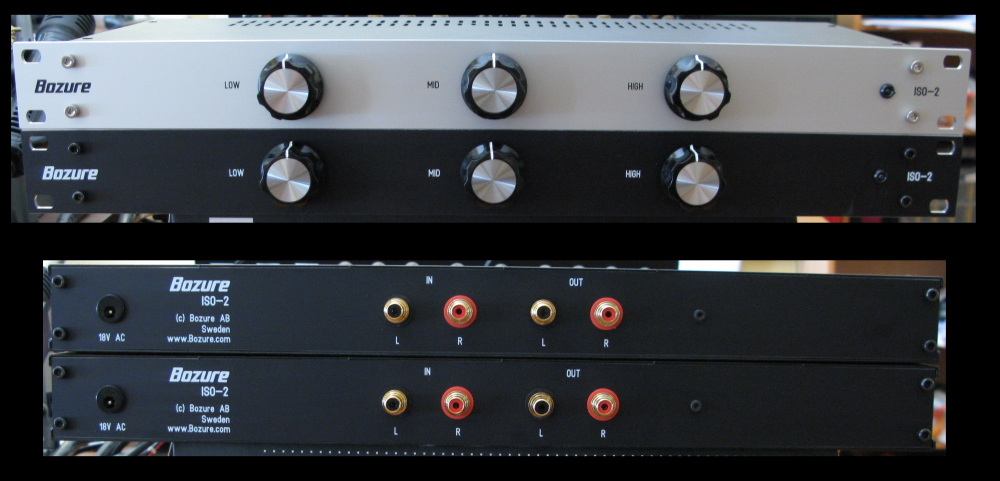 Bozure ISO-2 ,  19″ Isolator:
* High Quality 19″ 3-Band DJ Isolator for Club or Home use.
* RCA Line Level In / Out.
* Low / Mid / High. 10Hz-250Hz / 250Hz-4000Hz / 4000Hz- 25000Hz.
* Filters: 4-pole 24 dB/Octave.
* Full Kill to +13dB Max gain.
* ALPS RK27 Potentiometers ("Blue Velvet").
* Large (32mm) Knobs
* AC In: 18V AC. (18V AC/AC Adapters should have  a 2.1mm female plug)
* Black or Silver Front Panel available.
* 24 month warranty.
* Designed and handmade in Sweden.
* All unit's are handmade and built to order.
Configuration Options:
* Between CDJ and Mixer Input.
* Between Sound card and Mixer Input
* In Mixer FX-Loop.
* Between Mixer Out and Power Amplifier.
If you have any questions on how to connect ISO-201 to your specific setup, just send us an email.
Price:
Bozure ISO-2 Built Unit –  USD 495.00
Shipping EU –  USD 39.00
Shipping Rest of the world  –  Contact Us for shipping cost.
All payments are done via PayPal.
* VAT (25% For EU + UK private individuals)  is not included.
* EU VAT registered companies – contact us for VAT free EU intracommunity sales.
* For customers outside the EU, NO VAT is added on the sales price by Bozure.
** 18V AC/ AC adapter not included, we can offer a high quality one (Mascot 8810185000) for use in the EU for an extra cost.  For links to adapter suppliers, se below.    Most 18V AC/AC (18V AC out – NOT DC out) adapters will work. Contact us if you have questions about a specific model.
18V AC/AC Adapters links:

EU (select your local country in the webshop):  Distrelec
US / Canada:    Jameco

UK / Ireland (With UK mains plug):   acadaptorsrsus.co.uk . Can also use the one on the EU link.
AU:   Contact us for link