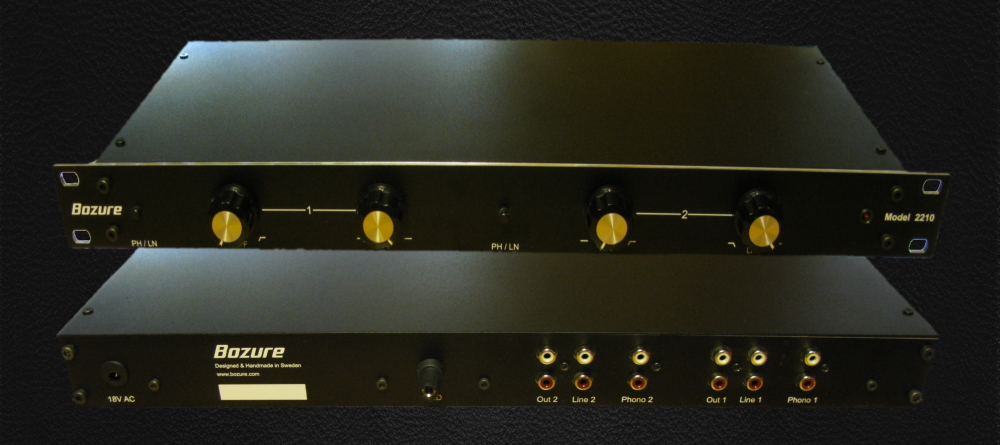 Dual (2 ch) analog High-Pass and Low-Pass filter unit with phono/Line input select.
Model 2210 is a dual sweepable Bass (HPF) and Treble (LPF) filter where you have total control over how much of the Bass & Treble frequencies it should cut (Kill). It's one of the best functionality to use to get perfect smooth blends since you can choose exactly the frequencies you want to kill doing a mix, something you can't do with a standard EQ.




Filter:

HPF: A variable frequency High-Pass filter. Attenuates the low frequency content (Bass/Low Mid) more and more when the knob is rotated clockwise. Full anti-clockwise = flat frequency response.
LPF: A variable frequency Low-Pass filter. Attenuates the high frequency content (High Mid/Treble) more and more when the knob is rotated anti-clockwise. Full clockwise = flat frequency response.

Frequency range of the HPF (Bass, Red) and the LPF (Treble, Blue) filters.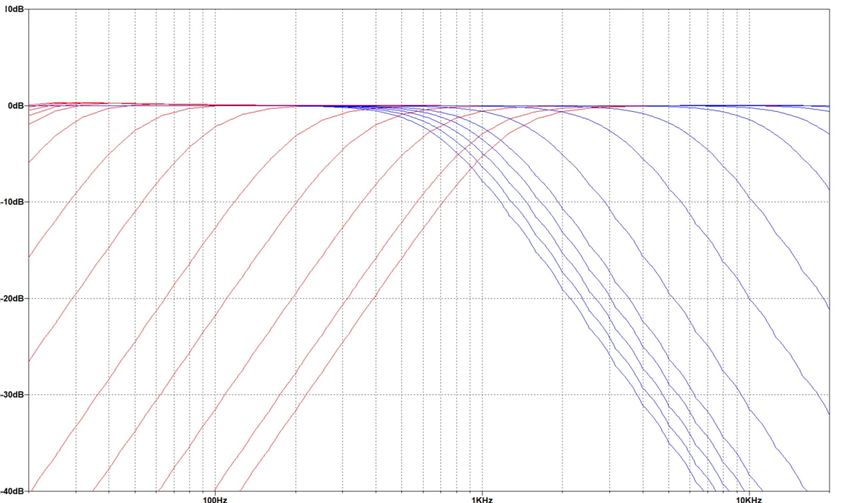 Filter Type Info:
The filters are variable frequency 12dB per octave filters. This type have been chosen for best sound quality since we can use true analog filters instead of voltage-controlled filters (VCF). VCF filters are mostly used in DJ Effect boxes/functions and synthesizers where the goal is more to create an "effect" (often with distortion added) than highest possible sound quality.

Phono:
– 2 gain stage design with high quality components and optimized passive RIAA filter.
– Gain: +40dB @ 1KHz
Misc:
AC In: 18V AC. (18V AC/AC Adapters should have a 2.1mm female plug)
Black or Silver Front Panel available.
24 month warranty.
Designed and handmade in Sweden.
All unit's are handmade and built to order.
Price:
Bozure Model 2210 – Phono/Line input select: USD 585.00
Bozure Model 2210L – Line level only: USD 485.00 ( Pre-Order )
Shipping Cost – Contact Us for shipping cost/Total cost quote.
All payments are done via PayPal.
EU VAT (for private individuals ) is not included.
EU VAT registered companies – contact us for VAT free EU intra-community sales.
For customers outside the EU, NO VAT is added on the sales price by Bozure.
** 18V AC/ AC adapter not included, we can offer a high quality one (Mascot 8810185000) for use in the EU for an extra cost. For links to adapter suppliers, se below. Most 18V AC/AC (18V AC out – NOT DC out) adapters will work. Contact us if you have questions about a specific model.

18V AC/AC Adapters links:

EU (select your local country in the webshop): Distrelec
US / Canada: Jameco
UK / Ireland (With UK mains plug): acadaptorsrsus.co.uk . Can also use the one on the EU link.
AU: Contact us for link